Heirlooms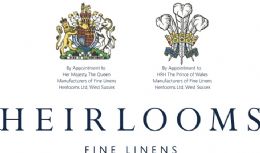 Ruth Douglas
2 Arun Business Park
Bognor Regis
W Sussex PO22 9SX
UK

+44 (0) 1243 820252
+44 (0) 7882 189612
E-mail: ruth@heirlooms-linens.com

Heirlooms are a unique British manufacturer of the finest bed, table and bathroom linens. Established in 1984 to provide linens of lasting beauty, the Heirlooms name has now become synonymous with quality, durability and the very finest fabrics, all hand crafted to perfection.

With a personal service given to every project, Heirlooms understand that every yacht, private aircraft and residence is as individual as its owner and work to precise specifications to create linens that perfectly complement the interior colour scheme giving designers the flexibility to have their own unique designs.

Heirlooms extensive experience has culminated in working on hundreds of yacht projects including M/Y Solandge, M/Y Octopus, M/Y Dubai, S/Y Maltese Falcon, S/Y Hemisphere, M/Y Candyscape 2, M/Y Nivana, M/Y Amnesia IV, M/Y Adastra and ExcellenceV to name but a few, Residential projects include the exclusive One Hyde Park and The Lancaster's.

Heirlooms have an extensive range of luxurious linens in both plain and jacquard including 1000 thread count cotton satin, 800tc cotton percale and their popular Classic Plain 570 thread count Egyptian cotton satin as well as quality and durable crew linens.

Heirlooms are the only UK linen manufacturer to hold the Royal Warrants to supply linens to the household of both Her Majesty the Queen and His Royal Highness the Prince of Wales as well as many other International Royal Families.
About the Event
Click here to find out more about SuperyachtDESIGN Week.
Why attend?
Click here to find out more about the benefits of attending, as a VIP or industry player.
Partnership Brochure
Click here to view the partnership opportunities for this year's Superyacht Design Week.
Film and galleries
Click here for the latest interviews and footage from SuperyachtDESIGN Week 2016!